Container gardening is an appealing garden practice that fits every type of home, skill level, and environment. It is a great way to start the garden journey whether you are new to gardening or want to try growing a new plant type. There are containers for every style of home and planters that work inside and outside in any environment. Container gardening is a simple practice that involves a few elements, a well-designed planter, good potting soil, water, and an understanding of the lighting in your space. Planters afford the flexibility to work and re-work the perfect garden design. Picking pots and moving them around to places with better sunlight or placing them in separate locations can enhance the look of your home. Planters also make harvesting much cleaner for vegetable gardens, and it is much easier to avoid those pesky weeds versus conventional garden beds.
How to Choose the Right Planter and Plants for a Container Garden: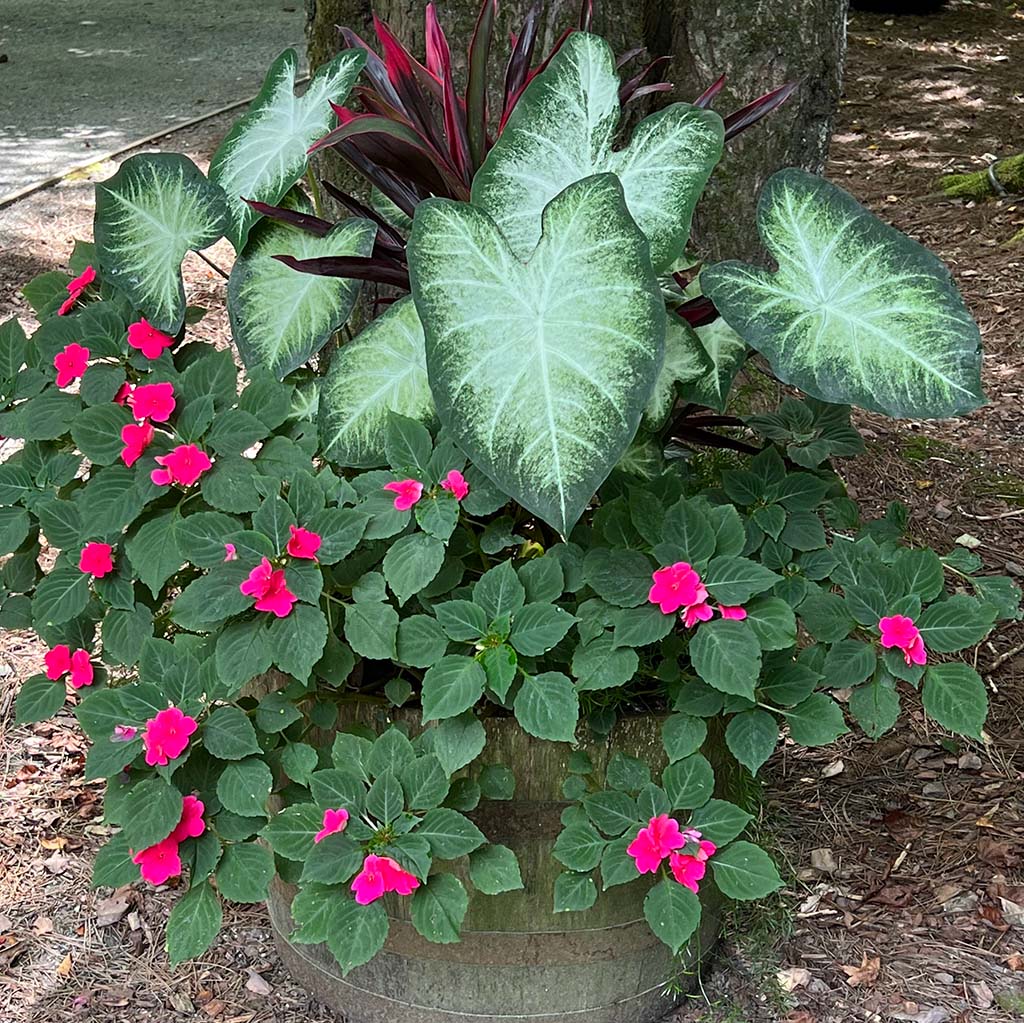 Planters have many different characteristics to consider. Four factors go into the planter choice, the type or material of the planter, the size or combination of sizes of the planters, the planter's style, and the planter's color. The best planters for the outside are composed of a breathable material like cast stone or terracotta. The size of the planter also needs to factor in the plant material you plan to grow and the appropriate placement for your space.
Color Schemes and Plant Combos
Container gardens add an extra element of color and dimension to the garden. Think about the color scheme you want for your container garden planters. Trickling your concept down into the plants you choose and their characteristics. For example, thriller plants utilize bold verticality to stand out, while filler plants tend to be more rounded options that fill the container. Plants that spill over the edge are called spillers, suitable for gardens seen from all sides. An alternative to combination planting is singular specimen planting which highlights one particular plant. Combine both methods to add interest in your garden design.
Don't Overfill Your Garden
Overcrowded gardens are a frequent beginner mistake. Overfilling planters and gardens can stagnate growth. Follow these plant ratios to gain more insight into the plants you like and how you want your garden to look:
Always remember that plants grow and need space. An average annual planting arrangement will take about a week and a half to establish roots and begin to flush out, then the rest of the season to gather in fullness. Following the care instructions on the grower's tag for spacing recommendations is best practice. If you do overfill an annual arrangement, it will shorten the lifespan of the planting. This technique is used when preparing for a special event for instant gratification. Ultimately, patience and space will yield a better container garden arrangement.
Water, Sunlight, and Drainage that is Just Right
The success of the outdoor container garden has a universal rule, the water, light, and drainage need to be just right. This step requires you to observe your space and be a weather person. The plants planted in the area must fit your microclimate well.
For example, planting annual and perennial flowers in full sun in an average climate will require daily water. However, if you place that same arrangement in an area that gets a good deal of wind and hot sun, it will need water at least twice a day, whereas if you place that arrangement in part sun and a protected area, water every other day and expect fewer flowers.
Plants are very adaptable; following the grower's tags for best practices for each plant is essential. All outdoor planters need drainage. Terracotta and cast stone planters by Campania International all have drainage holes that are proportioned to the container. Existing drainage holes help take out the guesswork of a suitable planter. Pot feet, risers, and saucers allow for drainage and cleanliness of the container garden.
Where to Find the Ideal Planter and Create the Perfect Container Garden
Container gardening is super fun, and when done right, you'll have a beautiful garden filled with unique planters, color schemes, and plants that play well off each other. Planters are the focal points of your container garden. Start your journey with a stunning selection from Garden Fountains & Outdoor Decor